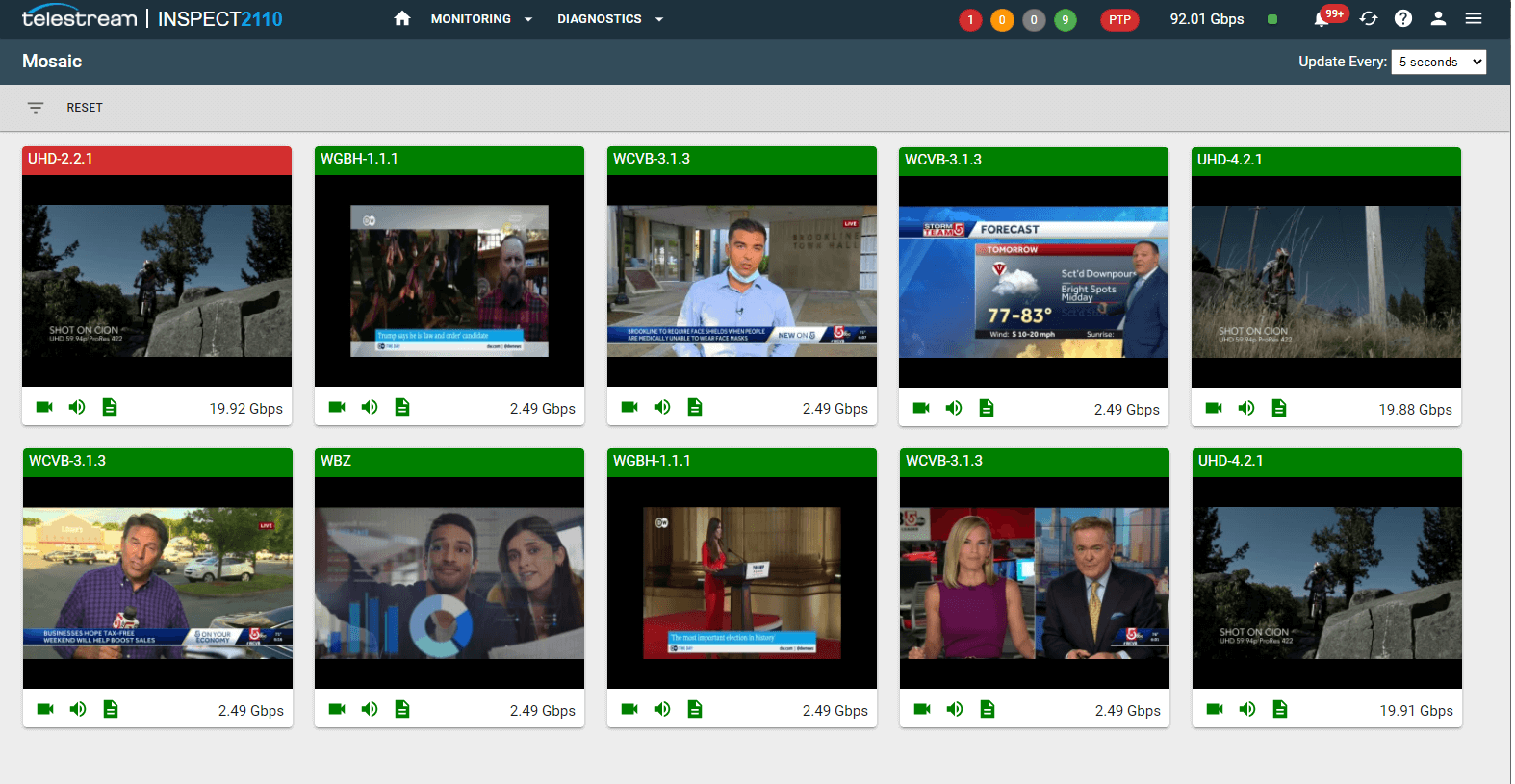 IP Video Monitoring
Inspect 2110 monitors ST 2110 video streams across a production or contribution network to make sure they are present and healthy. A notification will be triggered if the format of the video, audio or data has errors or differs from the SDP file. Thumbnails provide visual feedback of the video quality, with status icons that include mouse-over alert messages and a direct link to diagnostics.
Simplify operations of ST 2110 video networks by combining Inspect 2110 monitoring with PRISM waveform monitor. Inspect 2110 provides scalable video network monitoring by exception and includes a 'click-to-view in PRISM' button to automatically launch any stream in PRISM for deep ST 2110 video waveform, audio, data and PTP analysis.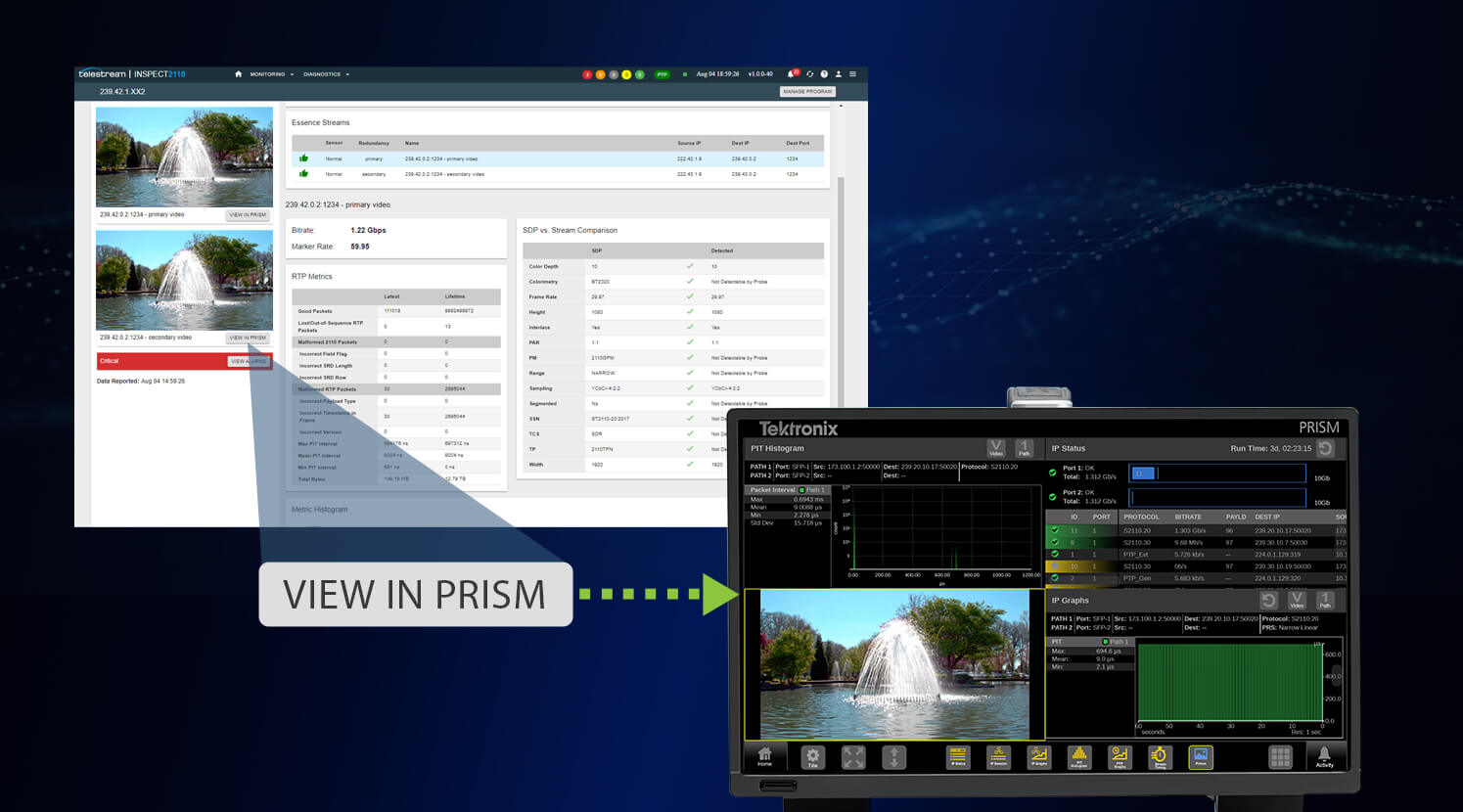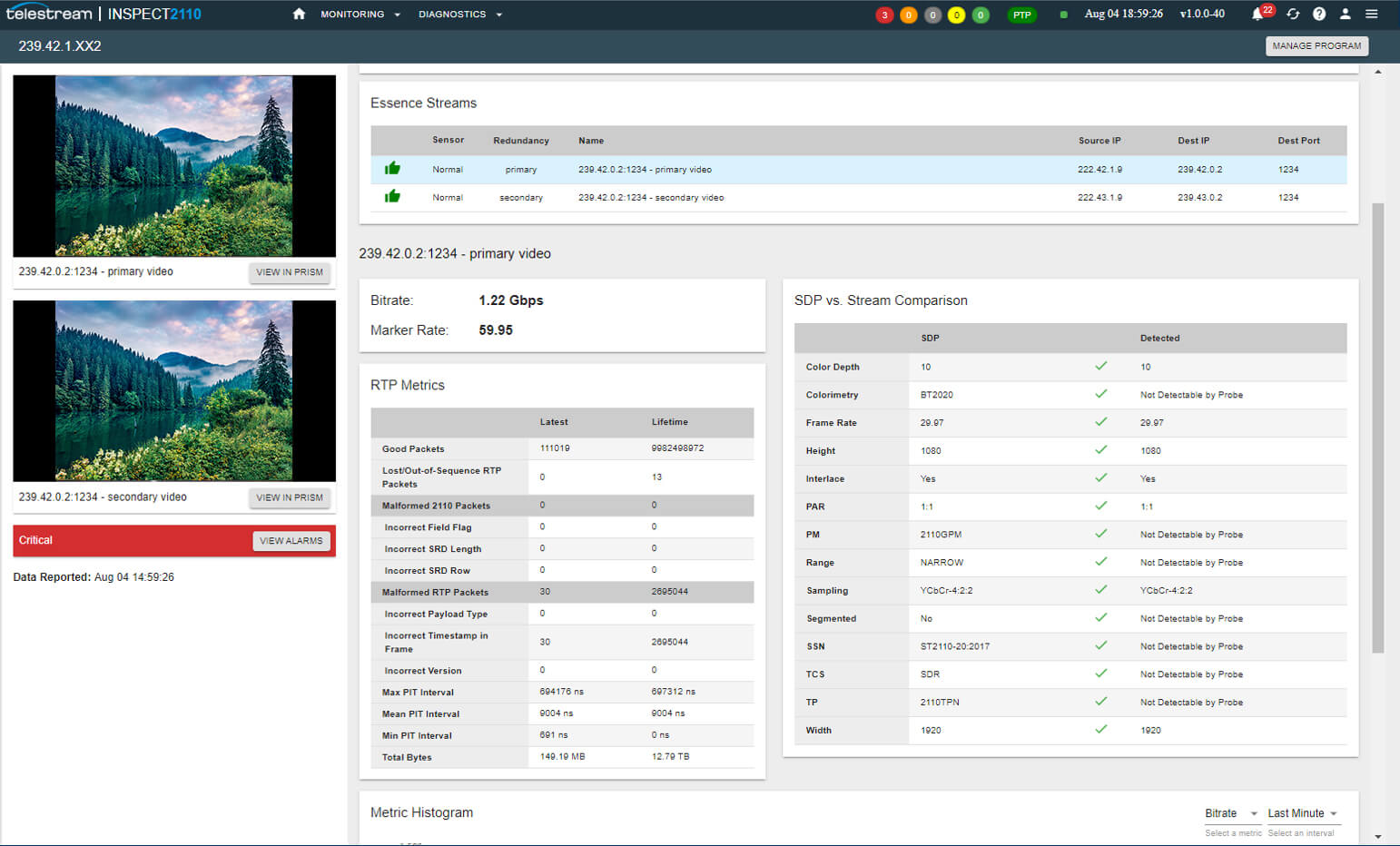 Redundancy and SDP File Checks
To help video operations, Inspect 2110 can compare the SDP file to the actual ST 2110 video streams running on the IP network. In addition, redundant video streams are compared, including ST 2022-7 support, to ensure both streams match and are operating as expected. Easily view redundant stream thumbnails and comparisons, and get alerts by exceptions of mismatch issues.
PTP Timing
PTP timing and synchronization is critical for IP video networking, and Inspect 2110 collects PTP performance metrics and confirms the video network is properly synchronized. Inspect 2110 simplifies automated detection of PTP issues and diagnostics, saving time and reducing errors.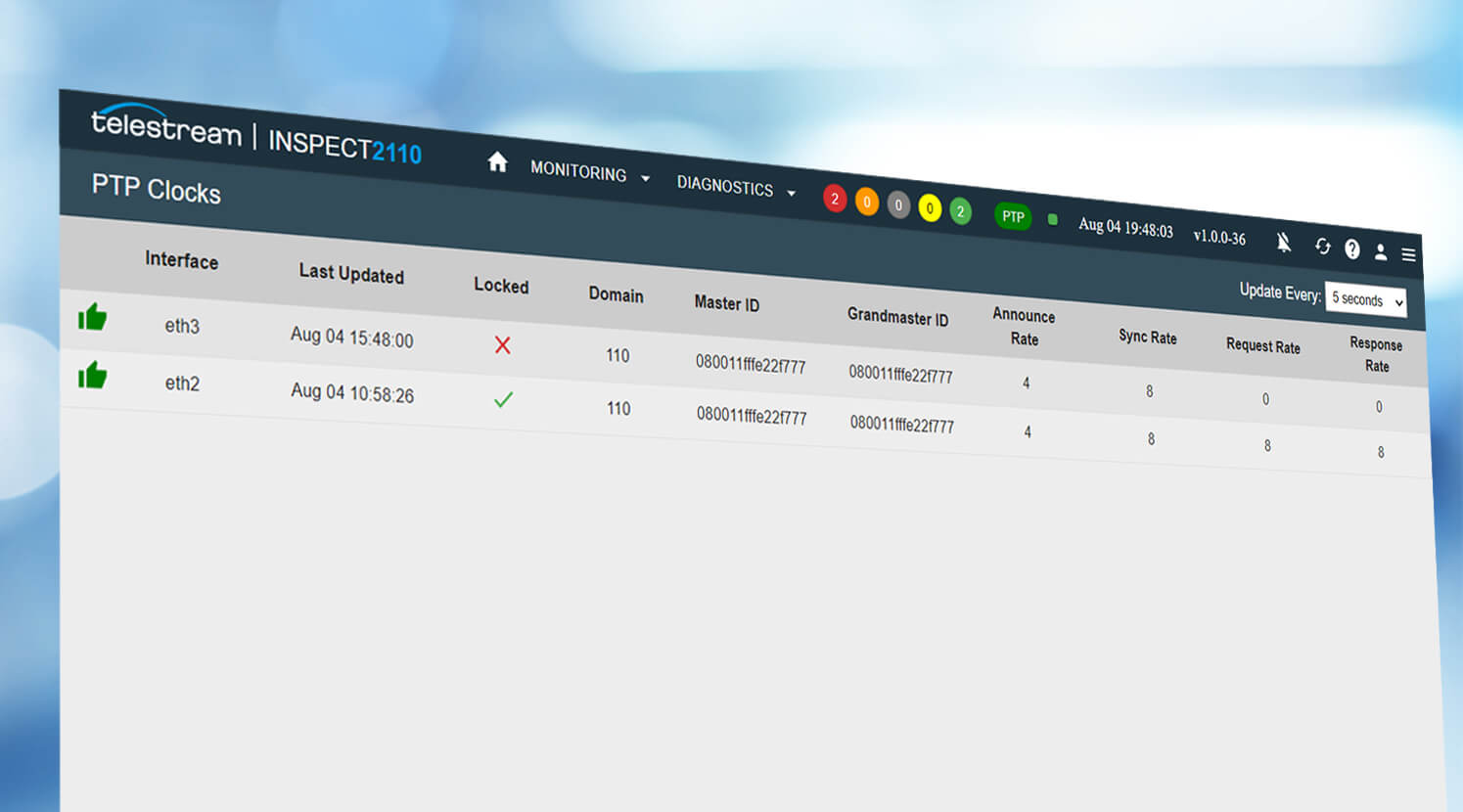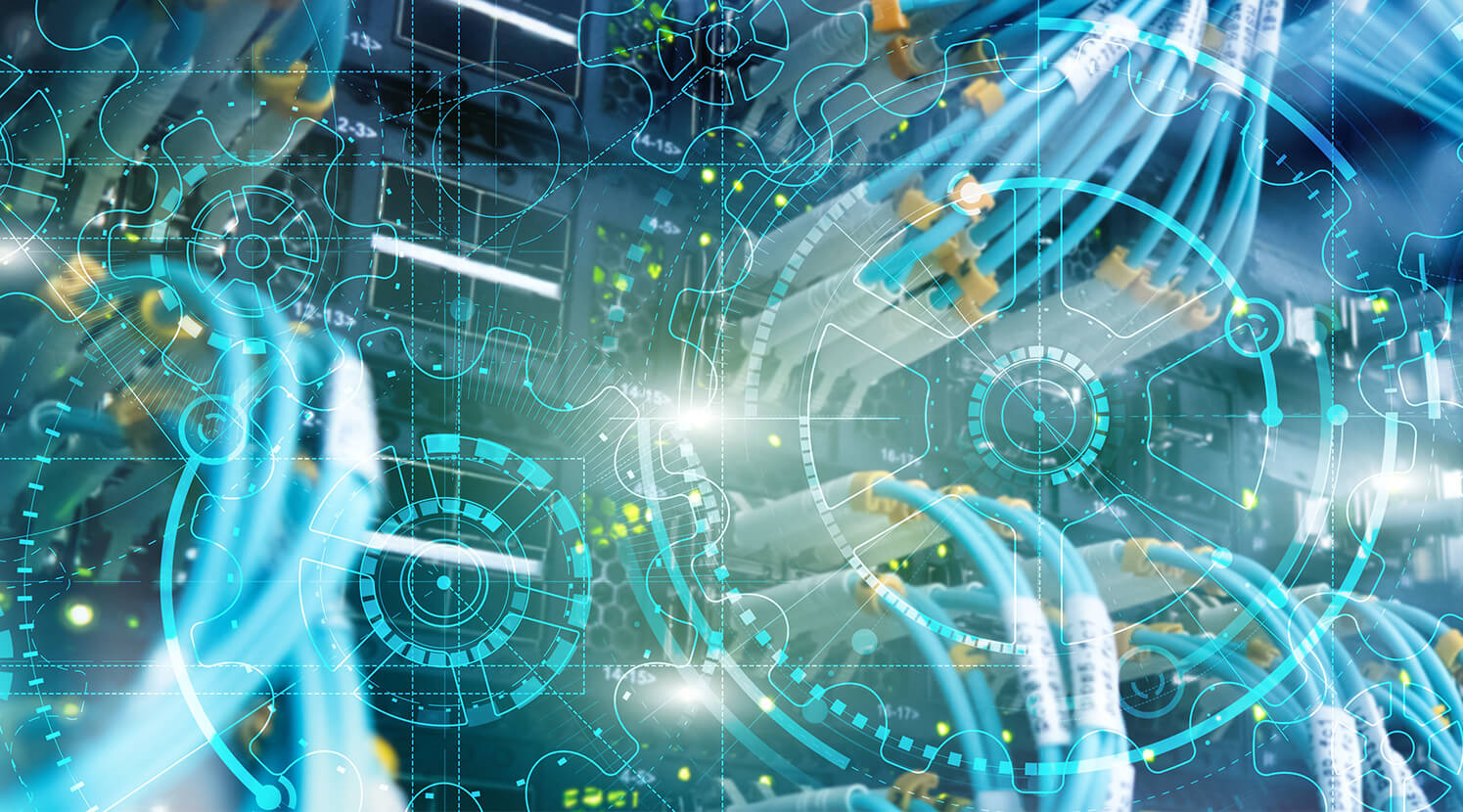 High Performance
Inspect 2110 supports up to 100Gbps of monitoring capacity across dual 100G Ethernet interfaces. It uses a software container-based architecture for high performance and future cloud deployments. Developers will appreciate the API-first design for automation, and that the easy to use Inspect 2110 web UI uses the same API.
IQ Solution Family
Inspect 2110 is the latest addition to the market leading IQ video quality assurance product family. With the addition of ST 2110 monitoring, broadcast operations and network distribution teams have a complete range of video workflow monitoring solutions from ST 2110 source through ABR OTT streaming services.