IP-Based Video Facilities
In modern IP-based facilities, PTP is distributed for timing and synchronization to a common source. The SPG9000 can use a GNSS signal as the time source and serve as a PTP grandmaster for the video network. With two independent ports and PTP engines, each SPG9000 can provide PTP for two different domains (e.g. ST 2059 and AES67) or can connect to both sides of redundant networks.
For easy connectivity to spine or backbone switches, each PTP port of the SPG9000 can connect at either 10 Gbps or 1 Gbps line rate, using SFP+ transceiver modules.
Each PTP instance of the SPG9000 can operate as a leader only, a follower only, or use "Ordinary Clock" mode which can adapt between leader and follower as required. For example, if GNSS-based time synchronization is not available (perhaps because there is no clear view of the sky for the antenna), a pair of SPG9000 systems can still function as a primary + backup pair for redundancy. The backup will use PTP to sync to the primary, and takeover with no time disturbance when it switches from follower to leader.
The SPG9000 can also function as an NMOS-controlled media sender, generating video, audio and data reference test signals over ST 2110 IP streams. The two 25 Gbps ports for IP traffic can operate independently or as redundant links per ST 2022-7.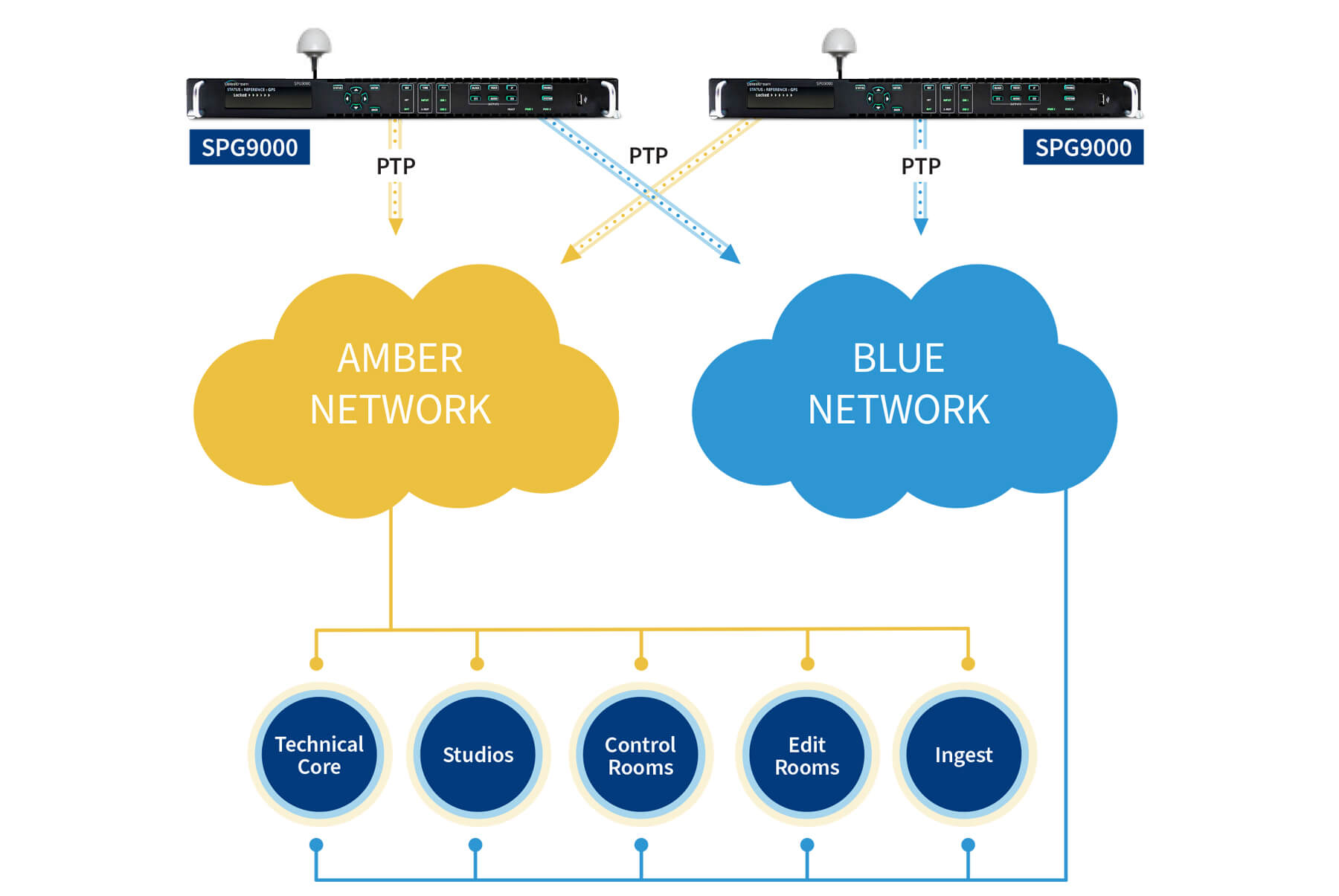 SDI/Analog Video Facilities
The SPG9000 is a full-featured sync pulse generator, providing all the necessary reference signals for an SDI-based video facility. The SPG9000 can lock to a GNSS signal or genlock to another SPG. It has six analog outputs for NTSC/PAL black burst, HD tri-level sync, 10 MHz continuous wave, or 1 pulse-per-second signals, each with independent timing offsets. Time code can be distributed from four LTC outputs and from VITC on any NTSC/PAL black outputs. Word Clock and Digital Audio Reference Signal (DARS) outputs are available for audio reference.
The SPG9000 also includes four multi-rate SDI test signal outputs that can operate independently for SD, HD-SDI (1.5G and 3G), and UHD (12G-SDI) formats, or as a quad-link interface for 4× 3G-SDI UHD formats.
Along with the companion ECO8000 changeover unit, a pair of SPG9000 units (primary and backup) comprise a highly available synchronization solution.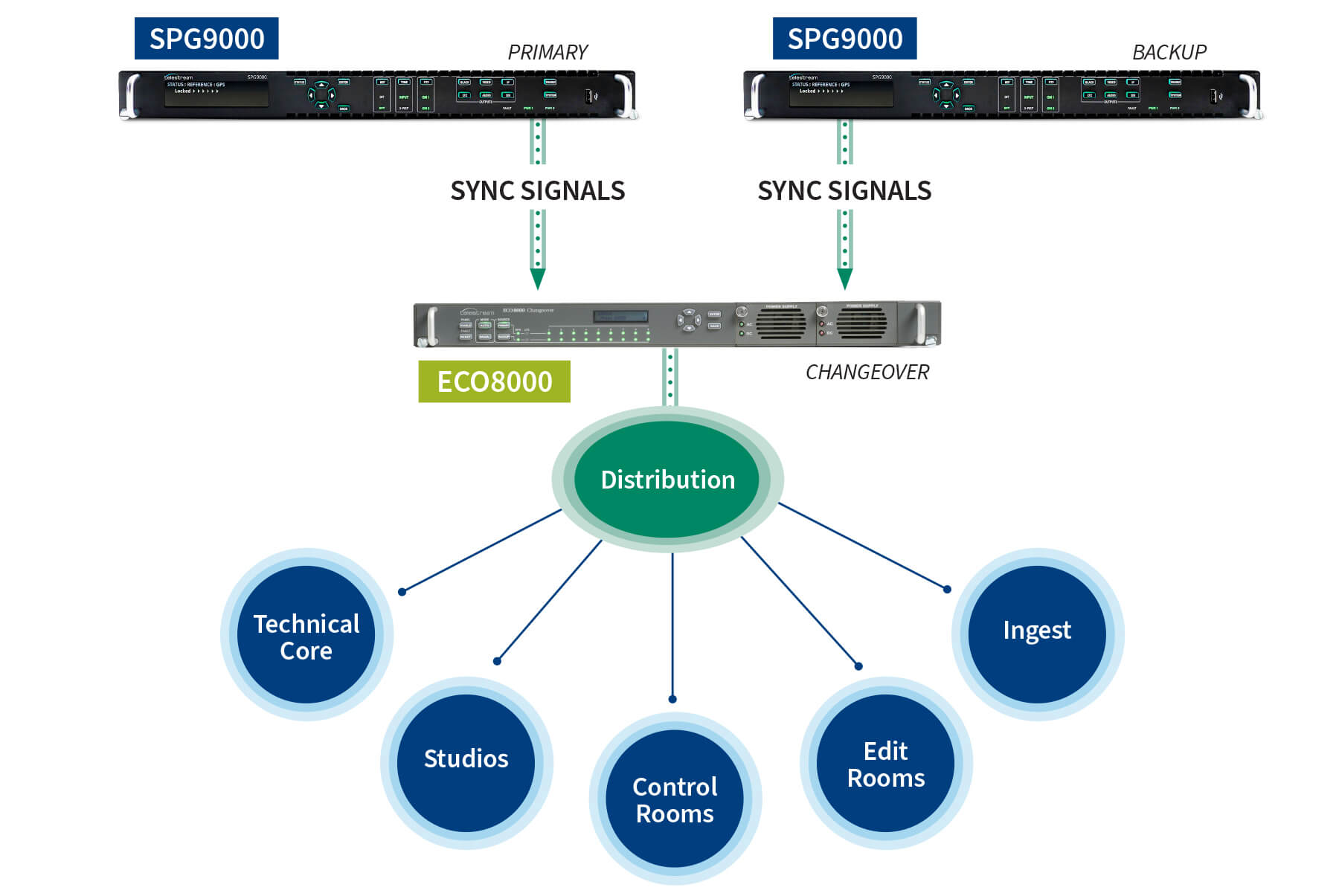 Hybrid SDI/IP Video Facilities
The SPG9000 is ideal for facilities that have a hybrid mix of IP-based equipment and SDI/analog equipment. SPG9000s can serve as PTP grandmasters for the facility's time and synchronization source. PTP is distributed through the facility, and directly to IP-based devices. At the network edge, additional SPG9000 units (either standalone or paired in a primary/backup configuration with an ECO8000) can operate as PTP followers and lock to the active grandmaster. This reference is then used to generate analog sync and time code signals for SDI/analog equipment that uses a traditional genlock input. This system architecture ensures that all equipment in the facility is synchronized to the same time source.
Test signal outputs of each SPG9000 can be configured to duplicate the same video test patterns to both IP and SDI outputs, or they can be configured to use separate test patterns.